China Supply Chain Executive Summit 2020 | Oct.15th-Oct.16th
The 5th China Supply Chain Executive Summit 2020 (CSCES)organized by Conways Asia, will be held on Oct. 15th-16th in 2020 in Shanghai, China.
ATTENTION! Oct. 15th will focus on all industries and Oct. 16th is the day of the China Pharma Supply Chain Executive Summit which will particularly focus on pharm. and related industries.
As the speed of supply chain and transportation operations continues to accelerate, the future of our industry depends on today's forward-thinking decisions. Supply chain functional excellence has and will continue to be key factor to realize the value of customers and shareholders.
As one of the most influential Supply Chain summits in Asia-Pacific area, CSCES 2020 brings together all new contents across Global Trends, Risk Management, Top Technologies and Innovation with more application case studies to show you all you need, in order to increasing customer expectations and drive business value. CSCES 2020 gets strong support from media, authorities; Hundreds of senior leaders from leading brands and providers will join us, discussing changes at home and abroad.
What We Can Get/See:
♣ Top CPOs and CSCOs in China: China's most creative and transformative minds to address the industry's most complex and rapidly evolving demands
♣ Intimacy: Exclusive setting to inspire innovation, fresh thinking, and meaningful interaction.
♣ Unrivalled networking: Limited amount of participants, a high-class atmosphere function as the perfect catalyst for building valuable business connections in and outside.
Key Themes:
Day1:Morning

l Global Supply Chain Trends and Challenges Till 2025

l Unleash the Power of a Supply Chain Technology Platform to Drive New Efficiencies

l How China companies can rebuild global supply chain resilience after COVID-19

l How will 5G Affect the Supply Chain?

Day2:Morning:Warehouse/Logistics

l How Smart Logistics is Changing Logistics Optimization to Sharpen Your Company's Competitive Edge

l AI in logistics: data-driven shifts to boost your business

l How to perfectly combine the Process Automation and Physical Automation?

l The New 3PL / Supply Chain Partnership - More Bang for Your Buck

Day1:Afternoon

l Digital transformation simmers in supply chain planning circles

l How demand planning's collaborative approach can be a catalyst for effective cross-department decision making that not only benefits the supply chain but also the business

l Internal supply chain transparency is the key point to efficiency

l Inventory Optimization: Getting to the Heart of a Smarter Supply Chain

Day2:Afternoon:Procurement

l With shifting trade tariffs and barriers, the unpredictability of Brexit and fluctuating commodity prices,Are you ready for Turns and Volatility ?

l Industry Digitization Leading to New Business Models Offering Better Pricing, Financing and Logistics through Consolidated Warehousing.

l Talent Management-From Base Camp to Summit

l Maximize Efficiency, Minimize Costs!
Previous Speakers:
υ Lily XIE, Head of Logistics and Customer, Johnson & Johnson
υ Xiaoyong LI, MTS-MTO Cluster VP China-Global, Schneider Electric
υ Dite SHI, Deputy GM, Cross-Border Supply Chain, Alibaba
υ Kwong Meng TEO, Operations Research Scientist, Huawei
υ Roland CHONG, COO, CP Group
υ David SHEN, VP, Supply Chain, McDonald's
υ Celia SHEN, Supply Chain Planning Director, Starbucks
υ Dr. Franz Decker, VP, Production Strategy and Logistics, BMW
υ Steven LIN, Director of Supply Chain Management, Continental Group
υ Xiaoling ZHOU, Supply Chain Director, Midea Group
υ Marcus Andersson, Head of Supply Chain & Commercial, Wyeth Nutrition
υ Shengliang CUI, Supply Chain Director, Novartis Pharma
υ Weiming WANG, Director of Procurement, Shanghai General Hospital
υ Guangqing SUN,Deputy GM&SCM, Sailun Group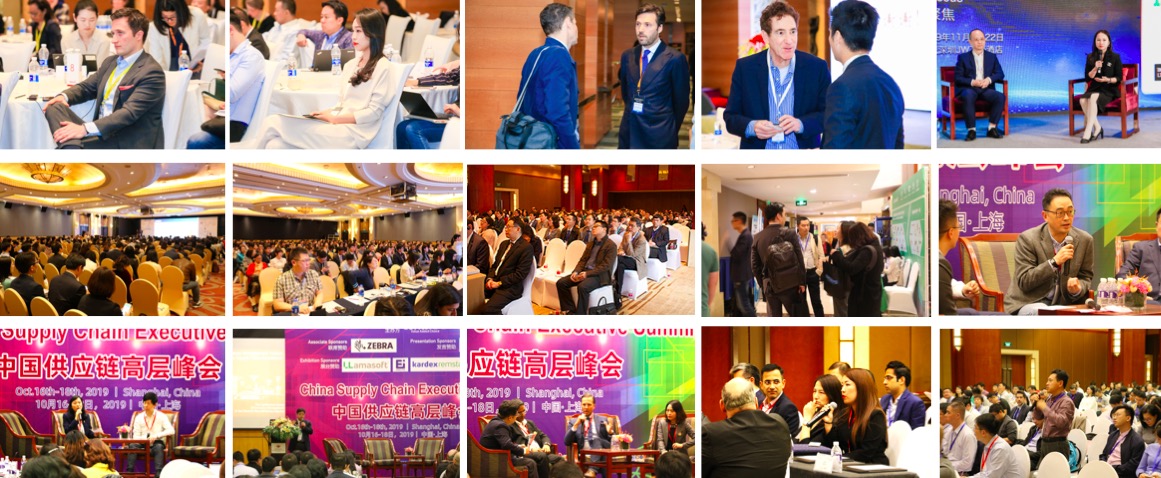 All above is a brief introduction, more information and agenda; please contact us.
Date: Oct.15th-16th, 2020
Location: Shanghai - China
Organizer: Conways Asia